Order Anylexic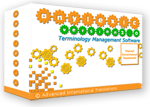 AnyLexic is designed for easy and convenient terminology database managing. This advanced software is used for working with terminology, creating, editing and exchanging dictionaries in a reliable and convenient way: all the terminology is stored in one database. Using AnyLexic you will keep terminology consistency while working under one project with your colleagues by dictionary exchanging.
Order Anylexic Server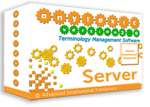 Working with terminological glossaries is an essential part of any translation process. Following AnyLexic, time-tested Terminology Management Software by AIT, we extend a new generation terminology management program. AnyLexic Server, a brand-new software can help on each stage of team terminology management process. You can create, edit, search, and exchange any multilingual glossary with other translators in a reliable and convenient way.